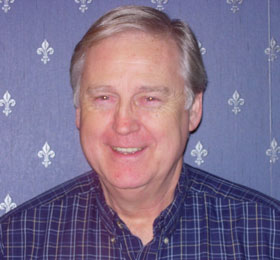 Biography
Club office: Former President.
Occupation: Currently Technical Director, Water Right, Inc., Appleton, WI. Semi-retired, Industrial Water Treatment Consultant for Water Technologies Worldwide, Inc. (privately owned by Jim Baumbach).

Education: Holds a B.S. Math, Chemistry, Ph.D. Michigan State U., Inorganic Chemistry.

Community Involvement: Board of Directors -- Housing Partnership of the Fox Cities. Webmaster NAMI and Memorial Presbyterian Church . Records Keeper -- CROP. Volunteer -- Emerency Shelter. Serving Elder -- Memorial Presbyterian Church, Appleton.

Lived in and worked for community reformulation in the Fifth City Project in the inner city of Chicago while simultaneously traveling extensively throughout the world as an international marketing manager for Nalco Chemical Co. Currently active as an adult leader during work trips for church youth.