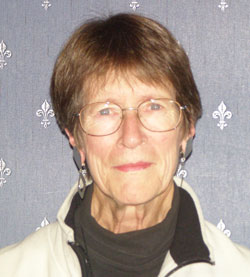 Biography
Club Office: Former Secretary
Retired: Professor Emerita of Physical Education, Lawrence University
Degrees Held: BA in English, Valparaiso University.
MEd, Miami University, Oxford Ohio. Additional work: UW-Milwaukee, U of Colorado-Boulder.
Community Involvement: Treasurer--Fox Cities CROP WALK; Leaven Volunteer (emergency help); Coordinator--Noonhour Philosophers (weekly lectures)
Statement:
I love.....chocolate, wine, reading, traveling, learning, friends, family, words, museums, basket weaving, adventures, playing games, volunteering
I used to..... fence, play tennis and badminton, but now walk, maybe snowshoe, play bridge and board games
I was nationally ranked..... in fencing and badminton
I attended.....Vaparaiso University, Miami of Ohio, U of Colorado and UW-Milwaukee.
I have.....waitressed in Door County, Yellowstone Park and Las Vegas.
I worked.....in Girl Scouting, training leaders and directing an established camp
I was....."on the road" for a year, bumming all over the USA and Las Vegas.
I taught..... secondary English, physical education at Milwaukee Downer College for Women and Lawrence University, and coached both men's and women's fencing and tennis.
I have..... 1 stepdaughter and son-in-law, 2 step-grandaughters and their SO's, 6 nieces and nephews, 13 great N&N's and an unknown number of great-great n&n's
I joined Torch
.....to learn, socialize....