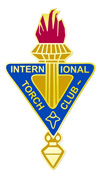 Meeting Minutes
Torch Club of the Fox Valley
13 April 2017
Atlas Coffee Mill & Café
Notes taken by: Jude Kuenn, secretary
Attendees: Jim Baumbach, Nancy Bodway, David Debbink, Mary Flanagan, Paul Freiberg, Jean Jepson, Barbara Kelly, Bill Kelly, Jude Kuenn, Mary Poulson, Richard Schoenbohm, Bob Swain, Helen Thiel, Peter Thiel, Donna Weis, Sofia Wilson
Guest: Sue Bennett, Dick Fink, Susan Jolin, Marge Swain
BUSINESS MEETING
Meeting called to order at 6:35pm.
Guest Introductions: Sue Bennett, Susan Jolin, Nancy Bodway's friend, and Marge Swain were warmly welcomed to the evening. We were also honored to have Dick Fink, president of IATC, attend the meeting.
Meeting minutes from 3/07/17 were accepted, motioned, seconded and approved.
Treasurer's report: 4/06/17 balance remains at $2,659.63. Report was accepted, motioned, seconded and approved.
Old Business: This is the last meeting for out-going Board members: Richard Schoenbohm, President; and Jude Kuenn, Secretary.
New Business:
A. 5/11/17 meeting will start new two-year Term for these Board members: Paul Freiberg, President; Walt Hedges, Vice President; Barbara Kelly will continue as Treasurer; and Sofia Wilson, Secretary.
B. Sue Bennett will be submitting her membership application.
C. IATC Convention - Sofia Wilson will represent us at the Annual IATC Convention, to be held in Kalamazoo, June 15-18, 2017.
D. Annual Summer Party - usually the second Thursday in August (8/10/17), the party will be discussed during May's meeting. Barbara (and Bill) Kelly offered to hold the evening at their home.
E. Paul routed the 2017-18 speaker schedule. Please sign-up for a talk.
F. IATC Election Controversy – Richard shared a hand-out recapping IATC candidates; ballots will be cast at June's Convention. Please read and come prepared to discuss at next meeting. Our delegate will vote per her choice; May's conversation may help with the decision.
G. Dick Fink – joined the evening with his third visit to the Fox Valley since covering the region. He spoke about the upcoming contested election. Dick also recommended reading Richard's hand-out. Dick is willing to chair any questions we may have regarding this topic.
Announcements:
A. Mary Poulson – advised Noonhour Philosophers' has been extended due to winter meetings cancelled to weather. Mary brought updated schedules to take if interested in their calendar.
B. Richard – will be one of four on a panel discussion Tuesday 4/25/17, 7-9pm, at the Appleton Public Library, Room C. The action planning session is on "Fair Maps Town Hall – Appleton".
C. Book Exchange – books left behind after tonight's meeting will be donated to APL's book sale.

Business segment adjourned at 7:08pm for dinner.
Bob Swain: The Battle of Grand Chute
The 1973 case of Roe vs. Wade was a landmark decision by the United States Supreme Court on the issue of abortion.
The first Fox Valley Planned Parenthood was located at the Valley Fair Mall, and later moved to Washington and Durkee Streets. Local lawyers volunteered to take civil lawsuits, defending citizen rights from school censorship to abortion.
Maggi Cage had an illegal abortion in Madison. It was a life changing event, so much so that she opened her own clinic in the Fox Valley. She paid for a building remodeling permit in Grand Chute for a pending business, but did not state what the business was. A 9/20/1977 article in the Appleton Post-Crescent wrote a story stating a Planned Parenthood would be 'opening soon'. The City Inspector called Maggi to stop construction, citing the permit had been 'exceeded'.
Roger Clark took the case, developing an ordinance defining a clinic on 10/18/1977; it was adopted. The next day, there was a demonstration in front of the building. Bob took the case and worked with Maggi. He proposed a Federal lawsuit filed in Milwaukee in 1978; the case was assigned to Myron Gorton.
Bob talked with Roger several times regarding the definition of a clinic and challenged the ordinance. Clark's adage was "We'll cross that bridge when we get to it." The Judge passed a ruling on 3/08/1978. Maggi's doors opened 8/19/1978.
The clinic was immediately picketed. This went on for several days with arrests and prosecutions, police arrested folks for trespassing. There were firebombs, stinkbombs, and personal threats. Bob went to watch the angry picketers and witnessed the hate.
Maggi eventually sold the clinic to a local Planned Parenthood group. The facility closed in 2016. Today, there are no abortions in the Valley by this organization. Maggi moved to Milwaukee and went on to teach at Marian College.
Similar issues continue nationally, 38 years after Grand Chute's own history with abortion. The Roe case is still good law.
The evening adjourned at 8:50pm.
Next meeting is Thursday 5/13/17. Cam Maurice's talk: "Stress".