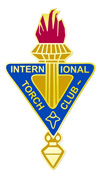 TORCH CLUB of the FOX VALLEY
M i n u t e s
10 February 2011
Atlas Coffee Mill & Café
Present: Jim Baumbach, Al Button, David Debbink, Barbara & Bill Kelly, Amy Oberg, Mary Poulson, Richard Schoenbohm (member-to-be), Irene Strohbeen, Bob Swain, Peter Thiel (Guest: Nancy Bodway), Scott Valitchka, Donna & Len Weis, Janet WullnerFaiss Cloak
PRESIDENT Barb Kelly called the meeting to order at 6:40 p.m. Peter Thiel was asked to introduce his guest, Nancy Bodway. Barb introduced new members Irene Strohbeen and David Woods [absent] and member-to-be, Richard Schoenbohm.
MINUTES were approved as written.
TREASURER'S REPORT: The checkbook balance as reported in January was $5,126.09. Expenses were $78.53 for guest meals, $36.80 for name tags. That month's income was $80.00 in dues. The February balance is $5,090.76.
Barb announced that our Annual Meeting will be held in March and the Paxton nominations are due to International by March 1. Len described the process. The award is presented at the Convention. The Convention (in Hagerstown) will need 2 delegates and 2 alternates. We will select them at our March meeting. Gold and Silver Awards will also be nominated.
Barb announced that Peter's art is on display at Atlas Coffee Mill.
Janet reminded members of Bob Swain's "gig" at The Outer Edge on Friday, February 24th.
We adjourned for dinner at 7:05 followed by Richard Schoenbohm's PowerPoint program on his experiences in Romania as a member of the Peace Corps. We hope he will submit a manuscript to The TORCH magazine.
Respectfully submitted,
Janet Wullner-Faiss Cloak, Secretary