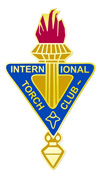 TORCH CLUB of the FOX VALLEY
M i n u t e s 10 March 2011
Atlas Coffee Mill and Café
Present: Jim Baumbach, Alan Button, Marcia & David Debbink, Barbara & Bill Kelly, Amy Oberg, Mary Poulson, Richard Schoenbohm, Irene Strohbeen, Peter Thiel, Scott Valitchka, Donna & Len Weis, David Woods, Janet Wullner-Faiss Cloak
PRESIDENT Barb Kelly called the meeting to order at 6:45 p.m. with the announcement that this is the Annual Meeting.
MINUTES were approved as written.
TREASURER'S REPORT was approved. Total Expenses are $1,208.36. Total Assets are $5,090.76 Dues must be paid to International by 15 April.
Barb proposed that we should consider our website to be our archive. It contains Minutes, By-Laws, History, Archival Storage records. She asked for a motion to formalize that. Dave Debbink moved and Bill Kelly seconded. The motion was approved by unanimous consent.
Barb is the current Webmaster. We discussed establishing a permanent appointed position of Webmaster for an indefinite term, no time limit. We will discuss this for addition to the by-laws in April.
The Nomination Committee (Al Button, Mary Poulson, Barb Kelly) submitted the following slate of officers for 2011-13:
President: Bill Kelly
Vice president: Scott Valitchka
Secretary: Amy Oberg
Treasurer: Barb Kelly
Len Weis moved and Al Button seconded the a motion to approve the entire slate by acclimation.
We need Delegates and Alternates for the Convention in Hagerstown. Donna and Len Weis, Al and Christina Button, maybe Barb and Bill Kelly have offered to be Alternates. Further discussion deferred until April meeting.
We adjourned at 7:20 for dinner followed by Marcia Debbink's program: "Ageism in the Workplace?: a Personal Reflection"
Respectfully submitted,
Janet Wullner-Faiss Cloak, Secretary
©2011 Torch Club of the Fox Valley