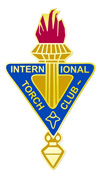 TORCH CLUB of the FOX VALLEY
M i n u t e s
13 May 2010
Atlas Coffee Mill and Cafe
Present:
Dr Al Button, Marcia & David Debbink, Bertil Engh, Barabara & Bill Kelly, Amy Oberg, Peter Thiel, Len Weis, Erika & Andrew Weiss, Jan Mirenda Smith & Scott Valitchka, Janet Wullner-Faiss Cloak

PRESIDENT Barb Kelly called the meeting to order at 6:40 p.m. Bertil Engh and Amy Oberg were welcomed as new members.
MINUTES: Financials were a month ahead, but Minutes were approved nevertheless.
TREASURERÕS REPORT: Checking account balance is $4,093.22.
Bill Kelly passed a Sign-up Sheet for next year's topics.
Bob suggested and we discussed a Lake Winnebago Dinner Cruise. We also discussed a trip to the Milwaukee Art Museum. Barb asked for a Trip Coordinator. Jan and Scott volunteered to arrange something for July or August.
Barb presented good news. Len will receive the Gold Award and Barb will receive the Silver Award from International. (Richard Allen, District 7, will nominate us as Outstanding Club of our district.)
We adjourned at 7:10 for dinner followed by Al's program: Gross Misallocation of Capital.
Respectfully submitted,
Janet Wullner-Faiss Cloak, Secretary