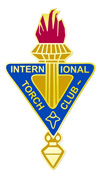 TORCH CLUB of the FOX VALLEY
M i n u t e s 12 may 2011
Atlas Coffee Mill and Café

Present: Jim Baumbach, Nancy Bodway, Dr Alan Button, Marcia & David Debbink, Barbara & Bill Kelly, Amy Oberg, Mary Poulson, Richard Schoenbohm, Jan Mirenda Smith & Scott Valitchka, Bob Swain, Peter Thiel, Janet Wullner-Faiss Cloak
PRESIDENT Barb Kelly called the meeting to order at 6:40 p.m. with some moments of silence in memory of Len Weis.
MINUTES were approved as written.
TREASURER'S REPORT: Balance still stands at $4,509.56.
The new Region 7 Director, Paul Douglas, wants to meet with directors (past and present) and members on 15 June. Motion made, seconded, approved to pay for his dinner.
By laws committee is needed to draft/tweak revisions and submit to the group in September. Barb, Amy and Richard volunteered to do this.
Discussion followed concerning a memorial for Len Weis. Ask Donna about a library or Weis Museum possibility? (Our tradition: book with a bookplate.) Engrave the reading (Weis Museum director) given at the Memorial Service? Jan Mirenda Smith and Peter Thiel will talk to Pete Juneau and then to Donna Weis. Get a copy of what was read at the Memorial Service. We used to stress books to a lending library.
Donna Weis may go to the Convention but wants to go by car.
Barb informed International about Len.
We adjourned at 7:20 for dinner followed by Jan Mirenda Smith's program, Are We Really Driving Innovation?

Respectfully submitted with Hail and Farewell,
Janet Wullner-Faiss Cloak, Secretary
©2011 Torch Club of the Fox Valley