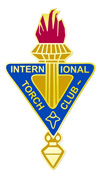 Meeting Minutes
Torch Club of the Fox Valley
08 May 2014
Atlas Coffee Mill & Café
Notes taken by: Jude Kuenn, secretary
Attendees: Nancy Bodway, Janet Wullner-Faiss Cloak, David Debbink, Marcia Debbink, Dwight Easty, Neal Gamsky, Jean Jepson, Barbara Kelly, Bill Kelly, Jude Kuenn, Amy Oberg, Mary Poulson, Webb Shaw, Irene Strohbeen, Bob Swain, Peter Thiel, Donna Weis

Guests: Irene Gamsky, Helen Thiel, Corrine Wocelka
BUSINESS MEETING
Meeting called to order at 6:40pm
Guests: Irene Gamsky, Helen Thiel and Corrine Wocelka were welcomed.
Minutes from 4/10/14 meeting were accepted, motioned and approved.
Treasurer's report: May total was $1,437.69. Guest dinner changed 4/10/14 balance to $1,414.38. Barbara reiterated a Summer Board meeting will be held to review Club's financial status. From April, Richard then proposes a general meeting invitation, looking forward at the Club's economic health. Expenses include: name tags, potential new members' dinners, in memoriam gifts, reimbursing IATC delegates' attendance. Note: IATC reimburses Club $250 for conference attendees.
Old Business -
a. Bob confirmed a full slate of 2014-2015 speakers. Amy and Irene are interested in presenting 9/11/14; Jean is talking 10/14 and Neal will present at 11/14 meeting. Barbara offered to post anyone's talk on our website if desired. Bob to provide list of speakers for the balance of the year to Barbara for uploading.
b. Bill and Barbara will be Club's Delegates at the International Torch Club's Annual Conference, 6/19-22/14 in St. Catherines (Niagara), Ontario, Canada. Al Button is willing to be an Alternate Delegate.
New Business -
a. The Kelly's are willing to host a Summer Gathering at their home, with those attending bringing a dish to share. Plan on the second Thursday in August, 8/14/14.
Announcements -
Mary – had a Nigerian refugee from Not Forgotten International at recent Noon Hour Philosophers meeting. In town until July, this gentleman is looking for opportunities to talk. Bob proposed a possible June Torch meeting to hear this speaker. Jude will check with Sue to learn if Atlas is available 6/12/14. Mary to investigate and advise person's schedule. Donna suggested an honorarium for Not Forgotten's cause. Barbara confirmed evening's guest would be treated to dinner. Watch email for updates to possible June meeting.
Next regular meeting 9/11/14.
Business segment adjourned at 7:10pm for dinner.

Nancy presented: Demented - the World of the Opera Diva

Music and singing have always been a part of Nancy's life. In third grade, a school assignment was coming to class wearing what each student wanted to be when they grew up. Nancy's costume was that of an opera singer.
Opera singers are somewhat demented: they are in their element singing, have a variety of attributes (positive and negative); and are at their best when all components come together. They are show-offs. Yet, their voice stands alone and defines who they are.

A stimmdiva has a sensuality of sound.
A kunstdiva has intelligence of character.

Opera dates back to the 1600s. In the 1800s, divas could make many demands and were well paid. Pampered and spoiled, there would be no show without them. Castratos had the voice of their youth from castration. A famous castratos was Farninelli, 1705-82. The last one died in 1861. Castrati faded in popularity due to the public's lack of acceptance of castration.

Manuel Gracias Sr. was a talented singer who made Mozart famous and expanded on vocalizing sound. His children were each accomplished: Manuel Jr. (1805-1906) was a great teacher; Pauline Viardot (1821-1910) sang; and the eldest Maria Malibran had a three-octave range, voice flexibility and amazing breathing. She sang Bel Canto and inspired artists and poets. Her life was cut short at 28 years when she was thrown from a horse in England.

Cecelia Bartoli was a mezzo-soprano who had a flawless voice. She performed and studied Malibran, recreating her voice at a lower pitch.

Maria Callas, not loved, not attractive, loved opera. She went home to her native Greece in 1937, found a teacher who heard something in her voice. Callas returned to the States, turned down the Madame Butterfly role at the Met, and is most remembered for her role as "Norma". Having had brains and commitment, Callas was the epitome of the expressivity of Bel Canto.

Joan Sutherland revived Bel Canto. She was a star who was not a diva. She was agreeable, never erred, was not showy, just a solid performer.

Renee Fleming born in 1959 and a Julliard graduate, has been the most influential singer. She is admired for her Strauss, is strongest with Mozart pieces and is considered the Great American Soprano. What a star. She has appeared at opening nights of opera houses around the world. At this year's Super Bowl, Fleming sang the Star Spangled Banner and was nervous. This was an audience she was unfamiliar with. Fleming is considered both a stimmdiva and kunstdiva with her creamy high notes and solid middle voice.

Anna Netrebko, just 33 years old, of Austrian citizenship, is the hottest diva to date. She is alluring, a new Callas with a magnificent dark voice. Outspoken, Netrebko will get better with age. She can sing Bel Canto to Russian to Mozart effortlessly.

Divas has 'limited prime': precious voice vs. precariousness of life on the stage.

Nancy played short audio excerpts of each diva in the presentation, and concluded with her own voice at 44 years of age in graduate school.
Next regular meeting is 9/11/14.