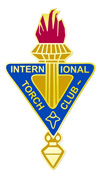 Meeting Minutes
Torch Club of the Fox Valley
11 November 2016
Atlas Coffee Mill & Café
Notes taken by: Jude Kuenn, secretary
Attendees: Jim Baumbach, Nancy Bodway, David Debbink, Marcia Debbink, Paul Freiberg, Jean Hedges, Walt Hedges, Jean Jepson, Barbara Kelly, Bill Kelly, Jude Kuenn, Cam Maurice, Mary Poulson, Richard Schoenbohm, Katie Shaw, Webb Shaw, Bob Swain, Helen Thiel, Peter Thiel, Donna Weis, Sofia Wilson
Guests: Dick Fink, Paul Kuenn
BUSINESS MEETING
Meeting called to order at 6:38pm.
Guest Introductions: Jude introduced Paul Kuenn, and Richard introduced Dick Fink, Region 6 Director and IATC President.
Dick shared IATC's goal: 100 clubs (currently there are 70) and 5,000 members (2,300 now).
Starting a chapter is easier than sustaining one. IATC's hay day was 1960 when there were 5,300 members and 106 clubs. Current Board's focus is how to shore up weaker clubs and define the formula and/or attributes of a healthy organization. The Board will be visiting more chapters to introduce themselves and interact with members. Dick felt Fox Valley is 'an outpost' of IATC.
There will be a regional conference 4/22/17 in Lansing, MI. Our club is being offered up to $500 to attend. The June 2017 convention will be in Kalamazoo, MI. Increased from $250, next year's reimbursement will be $300, to encourage participation.
Meeting minutes from 10/13/16 were accepted, motioned, seconded and approved.
Treasurer's report: 11/07/16 balance is $3,287.64. Total includes dues for annual IATC chapter membership yet to be paid. Report was accepted, motioned, seconded and approved. Annual dues: $70 for an individual and $45 for second household member. Check is payable to Torch Club of the Fox Valley.
Barbara will have surgery in December, and moved that William Kelly be designated as an authorized signatory for the checking account so he can pay bills while she is recovering. Bob Swain motioned to accept, David Debbink seconded and the motion was approved unanimously.
Old Business:
A. Barbara commented for those who remember Ann Sterling when she was IATC president, her husband recently passed away. Thoughts and sympathy were extended to Ann for her loss.
New Business:
A. Cam Maurice read a clever definition of politics:
"I TOLD MY SON, "YOU WILL MARRY THE GIRL I CHOOSE."
HE SAID, "NO."
I TOLD HIM, "SHE IS BILL GATES DAUGHTER."
HE SAID, "YES."
I CALLED BILL GATES AND SAID, "I WANT YOUR DAUGHTER TO MARRY MY SON."
BILL GATES SAID, "NO."
I TOLD BILL GATES, "MY SON IS THE C.E.O. OF WORLD BANK."
BILL GATES SAID, "OK."
I CALLED THE PRESIDENT OF WORLD BANK AND ASKED HIM TO MAKE MY SON THE C.E.O.
HE SAID, "NO."
I TOLD HIM, "MY SON IS BILL GATES SON-IN-LAW."
HE SAID, "OK."
THIS IS EXACTLY HOW POLITICS WORKS."
B. Paul Freiberg advised January is open for anyone who would like to present a topic. Please contact him if interested in talking at 1/12/17 meeting.
Announcements:
A. Mary Poulson said 11/16/16 Noonhour Philosophers' speaker will be Marty Finkler, talking on Patient Protection and the Affordable Care Act.

Business segment adjourned at 7pm for dinner.
Jude Kuenn presented "The Land Called Tower Hill"
Replacing the cedar shingle roof on a brick oven located on Site 12 in Tower Park State Park had been a topic of discussion between Paul and Jude for ~19 years. With DNR approval given October 2015, the project was accomplished over two weekends this past April. Picking up litter in the woods before the park opened for the season May 7th, Jude found concrete and stone work remains. Her new goal was to learn more about the land's history.
The second location of Helena, Tower Hill was a very successful shot tower from 1831 to 1861. Today's smelting house and drop tower, rebuilt in 1971, are an interpretation of the 1836 Wiskonsin Shot Company, the first of its kind in Wisconsin, when the state was just a Territory. It included a vertical shaft and horizontal tunnel dug into the sandstone cliff adjacent to the Wisconsin River. Construction was halted during the Black Hawk War in 1832, but resumed and was completed in 1833.
Having had three locations, Helena's second location was once considered as a site for Wisconsin's first territorial capitol. Lead fever lasted until 1848, when gold was discovered in California. Many miners traveled west for bigger riches. Wisconsin was granted statehood in 1848.
In 1857, a rail line was built through Spring Green causing Helena to wither. By the 1860s, farming replaced mining as the primary economic activity in southwestern Wisconsin. The mine closed permanently in 1861, the same year the Civil War started.
Richard Lloyd Jones and his wife Mallie, moved to Wyoming Valley, 10 years after emigrating from Wales. His brother Jenkin lived in the area. One of ten children, Richard's son Jenkin, at age 18, enlisted in 1862 in the Sixth Battery of the Wisconsin Volunteer Army. A broken foot at Missionary Ridge required him to walk with a cane the rest of his life. Jenkin mustered out in 1865 and decided to study for the ministry in 1866.
Jenkin married Susan after graduating in 1870 from Meadville Theological School, Meadville, PA. They had two children. Son Richard Lloyd Jones would later become the owner of the Wisconsin State Journal at one point in his career.
In 1889, Jenkin Lloyd Jones, by then a prominent Unitarian minister in Chicago, purchased the abandoned shot tower land for $60.00 at a tax sale. In 1891, he and several family members incorporated 'Tower Hill Pleasure Company' and began developing a summer retreat and school on the site. It hosted the best speakers and teachers of the day, like-minded intellectuals. Tower Hill Pleasure Company buildings included a pavilion (today's park shelter), public dining hall, library, ice house, stables, servants' quarters and several private cottages. The pavilion and brick oven are the only two structures that remain today.
Jenkin Lloyd Jones hired Welsh stone mason David Timothy to lead the 1908 construction of the barn for a small herd of dairy cows. Jones went on to write a series of articles called "The Gospel of the Farm" based on his own barn at Tower Hill.
Susan died of appendicitis in 1911. Jenkin remarried in 1915 to Mrs. Edith Lackersteen, a long-time co-worker at the Abraham Lincoln Centre on the south side of Chicago. Jenkin died as the result of a "shock following an operation" in 1918. In 1922, Edith donated the 65 acres to the State to be become a park, formally opening in 1927 at Tower Hill State Park.
There is evidence the CCC built trails with stone steps and a gazebo, still standing. Spring Green resident of new friend of Paul and Jude's, Ellis Pifer lived in one of the cottages until the 1950s. Family friend Gladys helped raise Ellis and his two sisters when their father died young. She worked in Tower Hill Pleasure Company's kitchen.
Ellis spent his summer looking for cottage clues based on the 1923 DNR map of the Pleasure Company buildings. Preserving the brick oven ignited Ellis' search for those long-forgotten cottages and refreshed childhood memories. He shared many happy stories. Jude's 2017 idea, proposed to the Park Superintendent, is to create a timeline recording the land's use from Black Hawk to present. It's a small park, but its legacy needs to be shared, this Land Called Tower Hill.
The evening adjourned at 8:45pm.
Next meeting is 12/08/16, speaker will be Sofia Wilson.