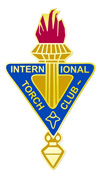 TORCH CLUB of the FOX VALLEY
M i n u t e s
16 September 2010
Atlas Coffee Mill and Café
Present:
Jim Baumbach, Dr Al Button (Guest: Irene Strohbeen), Janet Wullner-Faiss Cloak,
Marcia & David Debbink, Bertil Engh, Leota Ester, Barbara & Bill Kelly, Amy Oberg, Bob Swain, Peter Thiel, Jan Mirenda Smith & Scott Valitchka, Pat Warrick, Donna & Len Weiss
PRESIDENT Barb Kelly called the meeting to order at 6:30 p.m.
MINUTES were approved as written.
TREASURER'S REPORT: There is no change in our check book since the last meeting. The treasury shows
$4,322.42.
Annual member
dues
are to be paid now or no later than our
October
meeting. The dues are
$70 per member
, and with new members, there is an
additional $10 initiation fee
.
Al introduced his guest, Irene Strohbeen, a new member.
Len and Al reported on the Torch Youngstown convention. (Al said that he was highly impressed with it.):
Two young women will take over the Strickland position
Barb received the Silver Award
Len received the Gold Award
Our club was awarded Best in our region
We still have $2000 to spend for a "party" of some sort. Possibilities haven't worked out despite Jan and Scott's hard work. Lively discussion. The "money isn't burning a hole in our pocket"—but "we don't want to get too far away from the event (the Convention) we're celebrating." Barb asked that we e-mail ideas to the entire membership instead of only to her.
We adjourned at 7:07 for dinner followed by a Round Robin of Favorite Books. Janet was asked to record the choices.
Respectfully submitted,
Janet Wullner-Faiss Cloak, Secretary